No single solution will solve your air quality challenges
Therefore, we recommend a layered strategy.
Assess your Current Environment – If you have not already done so, review the latest CDC guidance on reopening schools and complete the K-12 Schools COVID-19 Mitigation Toolkit forms.
Bring in as much outdoor air as possible (ideally two air changes per hour or more)
Ensure Heating, Ventilation, and Air Conditioning (HVAC) are functioning optimally, and settings are maximizing ventilation.
Improve the level of air filtration as much as possible without significantly reducing airflow (MERV 13 if possible).
Size, install, and replace the filters according to the manufacturer's instructions.
Consider portable air cleaners that use high-efficiency particulate air (HEPA) filters to enhance air cleaning wherever possible, like Industrial Maid's new Commercial and Industrial Air Purifiers line.
Consider using Advanced Disinfection Technologies like NeedlePoint Bipolar Ionization to neutralize pathogens in the air and on surfaces, including COVID-19.
Note: Industrial Maid's Commercial and Industrial Air Purifiers exceed ASHRAE's guidance for supplemental air cleaner's when reopening educational facilities.
Proven Technology - Model 1500iP Commercial Air Purifier
One of the most comprehensive and cost-effective ways to clean and disinfect the air in schools is Industrial Maid's new line of commercial air purifiers. Plug the 1500iP portable unit into a standard 115 VAC outlet in the classroom and turn it on. The easy to maintain air filtration unit will quietly and continuously control dust and odors, neutralize pathogens, and other harmful particles, including COVID-19.
NeedlePoint Bipolar Ionization (Needlepoint Bipolar Ionization) technology has proven effective against bacteria and viruses. In June 2020, third-party tests confirmed the effectiveness of Needlepoint Bipolar Ionization against COVID-19. Neutralization of SARS-CoV-2 began immediately, and up to 99.4% of the Virus inactivated within 30 minutes. Needlepoint Bipolar Ionization technology is UL 2998 Ozone Free Certified.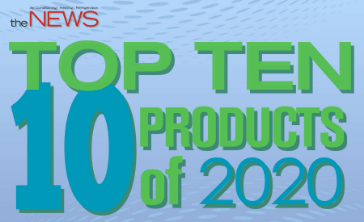 ACHR NEWS recognizes Industrial Maid LLC's I-Series Air Purifiers as one of the top 10 HVACR products of 2020
The I-Series units range from 1,500 CFM to 3,500 CFM and are available in portable, free-hanging, or ducted style systems. Optional HEPA filters can remove particles down to 0.3 Microns.
Made in the USA
All Industrial Maid products are made right here in the heartland.
School Health and Safety
Industrial Maid's Commercial and Industrial Air Purification units provide the most comprehensive ambient air filtration solution in the market today. The I-Series units are actively at work where your students, faculty, and staff are. With up to four stages of filtration, including HEPA, they can operate 24×7 and remove allergens, dust, fumes, odors, VOCs, and other particulates from the workspace with the added value of killing bacteria, mold, and neutralizing viruses and other pathogens. The Needlepoint Bipolar Ionization technology is UL 2998, Ozone Free Certified.
Easy Installation
Our portable and lightweight, modular ambient air filtration systems are faster and easier to install than traditional ducted systems. Because the units are ductless, it's less expensive, time-intensive, and the installation won't interfere with other infrastructure and equipment in your facilities.
Cost Savings
No ductwork is a significant savings upfront on labor and materials. As a result, our units can operate more efficiently with lower horsepower while maintaining high air exchange rates. The result is 15-20% lower energy use than traditional ducted systems.
Space Savings
Our portable unit has a small footprint, and our free-hanging commercial and industrial air purifiers are overhead and out of the way where they won't impact floor space.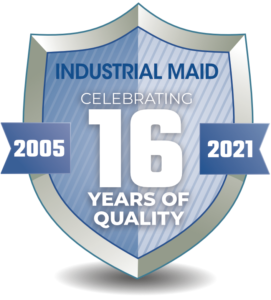 Low Maintenance
Everything is easily accessible for fast filter changes and maintenance – no special tools required. The filter design makes filter change-out quick and easy. And our filter service indicator lets you know when it's time to change.
Quiet Operation
The portable I-Series Ambient Air Purifier with the ECM motor operates between 42 (Low) and 51 (High) dBA, similar to the sound level you would find in a library or quiet office. Additionally, each free-hanging ambient air cleaner has an optional silencer package that could reduce noise levels by an additional 3-5 dBA.
Flexibility
When you need to change your workspace or equipment configuration, I-Series Commercial and Industrial Air Purifiers are easy to move without any ductwork.
Industrial Maid has been helping customers provide clean, safe, and efficient work environments for more than 16 years. With more than thirty thousand ambient air cleaners in thousands of businesses across North America and internationally, our innovative products and services stand out. The new I-series Commercial and Industrial line of Air Purifiers is another example of our innovation and timely response to market needs.
Contact Industrial Maid