Industrial Maid Air Filtration Control Panel
The easy-to-use touch screen panel enables you to monitor real-time data and control up to 32 Industrial Air Cleaners or Air Purifiers from a central location, including blowers, static pressure, filter service, and system maintenance notifications.
Delta W Series 12" LCD Touch Screen HMI, Delta MS300 Factory Programmed VFD, 0-3" Pressure Transmitter & NEMA 1 Enclosure
*Delta MS300 & Pressure Transmitter are housed in the NEMA 1 Enclosure on each air cleaner*
System Features:


User-friendly functionality


Easily monitor filter loading for each air cleaner


Receive filter service alarms


Building fire sprinkler system connectivity


Individual unit & zone controlling


Motor performance monitoring


Factory start-up support & commissioning


HMI Panel Features:


Controls up to 32 units (1-4 Zones Std.)


12" Touch Screen (Complies with IP65)


UL Listed NEMA 4 Enclosure


MODBUS RS485


SD Card Slot


USB Port


Remote LAN Control Access


PLC offers 100 kHz high-speed output and counting functions


Built-in 115V/1 Phase 6ft Power Cord


Factory Programmed with Plant Layout and Individual Unit Performance Screens


Manual ON/OFF Power Button


Quote request must include T-Series or I-Series model number, number of air cleaners & required voltage of air cleaners.
(applicable on most T-Series and the 3500 I-Series)
SKU: I-Maid CP
Share
View full details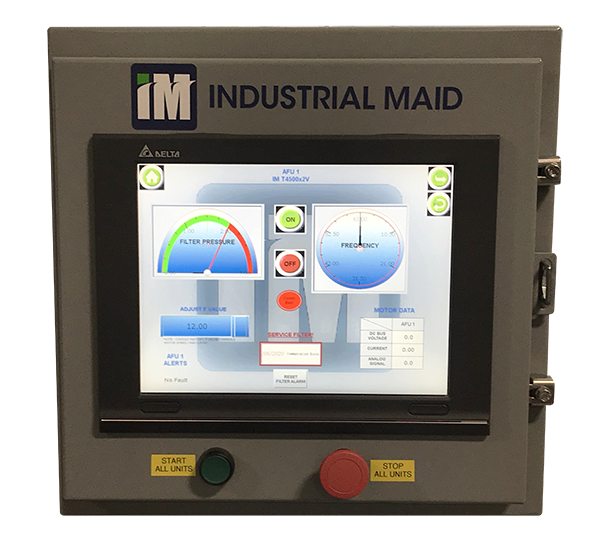 Technical Information