Welding and Metal Fabrication
Metal fabrication processes involve a variety of automated and manual processes involving tools at each step of the process—cutting, bending, and assembling. Metal operations emit pollutants that include hazardous air pollutants (HAPs), volatile organic compounds (VOC), and particle pollution (dust), specifically oil mist, dust, and fumes containing manganese, lead, hexavalent chromium, and other toxic elements.
A lack of proper ventilation can negatively affect your shop's employees, their families, and customers. Whether your shop is mostly-automated or mostly-manual, the quality of air your employees breath in is crucial. Due to the possible health threats, the Occupational Safety and Health Administration (OSHA) monitors metalworking plants and, as the agency does with other industrial workplaces, regulates the quality of indoor air.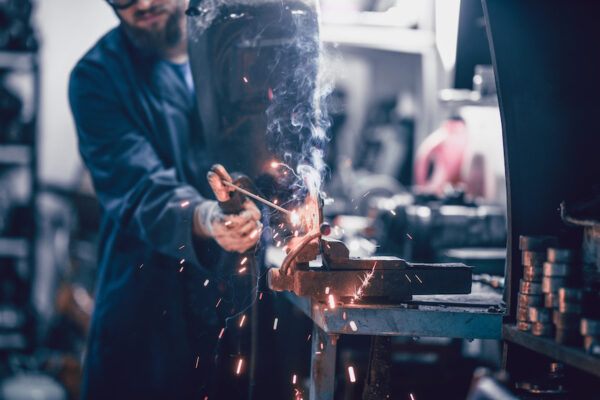 Metal fabrication involves any part of the metal-making process, including cutting, machining, punching, folding, stamping, welding, and shearing. Sheet metal, structural metal, and steel fabrication are also popular services in which some shops specialize. Below are just a few of the jobs possible in a metal fabrication shop.
Laser operator
Fabricator
Sheet or Steel Metal Operator
Machine Operator
Steel or Metal Fabricator
Metal Fabricator
Welder
Manufacturers have a variety of good reasons to exceed minimum air-quality standards, but one of the biggest reasons is to provide the safest and healthiest workplace possible to protect employees. Focus on workplace health and safety has increased over recent decades so keep your workplace safe with Industrial Maid.
Metal Fabrication Company Desires Clean Environment
Hear how Industrial Maid empowered MetalQuest to achieve clean air and a healthy environment through its Industrial Air Filtration Ambient T-Series.
A metal fabrication company, located in southeast Nebraska built a new 41,250 square foot fabrication facility. Looking to keep their employees safe, they sought solutions to minimize the pollutants in the welding area and from laser cutting tables.  Industrial Maid provided a variety of the solutions they needed, including Industrial Air Cleaner Ambient T-Series. See the full story, using the link below.
Learn More About the Ambient T-Series Industrial Air Cleaners
Search By Product, Application or Industry
We specialize in general plant air filtration, welding shop filtration systems, automatic and robotic welding cell filtration, and oil mist and particle control for any industry. Whether you challenge stems from welding fumes and smoke; laser and cutting fumes and smoke; grinding and deburring dust; dry dust; powders; machine processes; mist removal; sanding and finishing; vehicle exhaust or dust collection ? We've got you covered.
Safer Environment. Safer Employees.